May 30, 2023
New features — update order, order book view and changelog!
Since our launch of our V2 UI, we've been hard at work on some new features, driven by our community's feedback. This is part of an ongoing effort to deliver value iteratively and consistently, and is the first batch of many exciting improvements to come!
Update Order!
Imagine you've listed a limit order while a token was dipping, and it's become clear that the price isn't returning to this mark any time soon; but, you still want to take advantage of any future dips. Or perhaps you want to add another 100 ADA to an existing limit order. Previously, you'd have to cancel your limit order and place a new one at the new price. But now, you can do that in a single transaction, saving on transaction fees!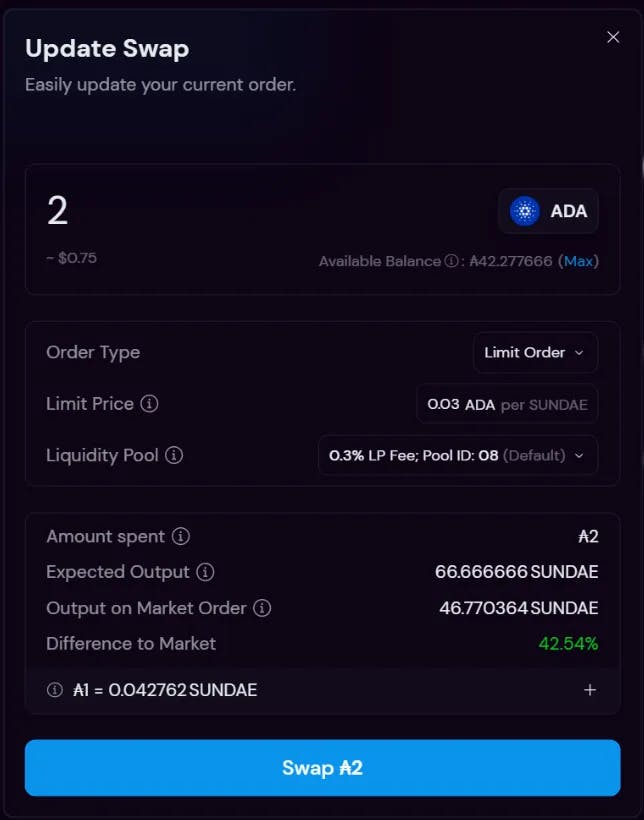 Open Orders!
Now, when placing an order, you'll find up to 25 open buy and sell orders for your chosen pool. This can help you evaluate important market conditions, like support, sentiment, and market momentum.


Zaps!
We've enabled Zaps, or the ability to deposit liquidity into a pool with a single asset, in the preview environment. Because Zaps use some previously unexercised features of our smart contracts, we want to ensure the functionality is tested thoroughly on preview before enabling it on mainnet. So please try it out, and let us know on Discord if you find any issues!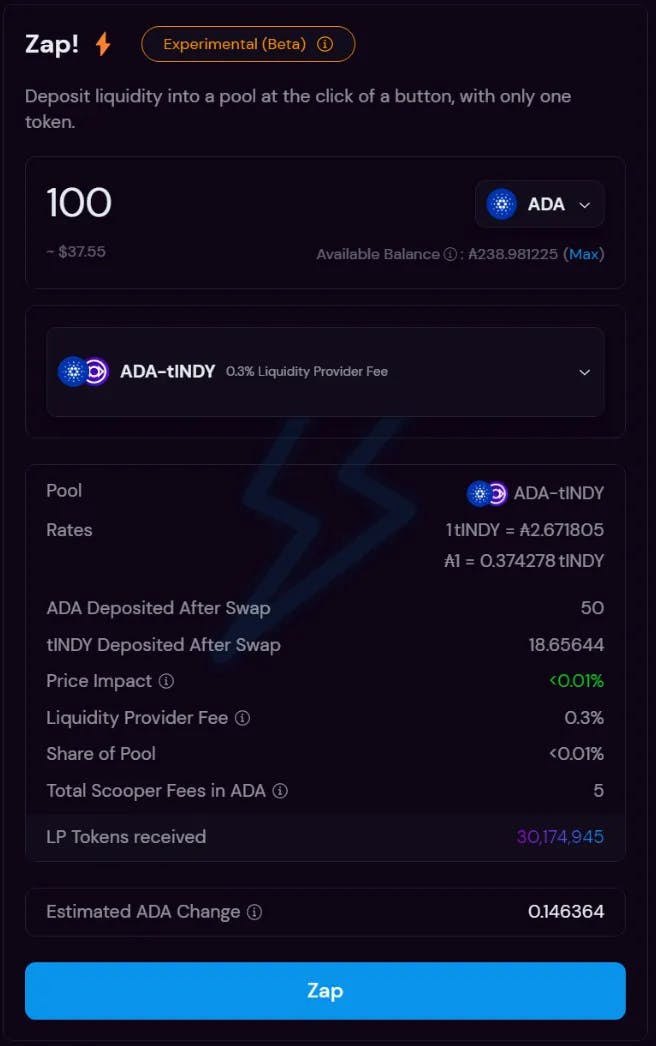 We're thrilled to introduce these new features to enhance your trading experience, ensure transactional efficiency and provide valuable market insights. Your feedback has been instrumental in shaping these updates, underlining our commitment to iterative improvement and a user-centric approach. We invite you to try these features and share your feedback on our Discord community. Stay tuned for more exciting improvements on the horizon as we continually work to refine your trading experience!